Not all rescue stories are simple. They don't always start with finding a cute puppy and end with an owner who wants to cuddle that puppy forever. They don't always start with finding a perfectly healthy cat and end with the rescue profiting because there was an absence of vet bills to be paid. The animals don't always start out with behaviours that are easy to train and end with breakthroughs for that animal.
However, the stories always, always, end with somebody loving that rescued animal.
This is the story of Akira, a dog with a long journey traveled, and more to come, as told by her adoptive mother, Kim M:
Phase 1: Falling in love with Akira
"What started as a decision to start a Facebook account just so we could join the GEARS Happily Ever After group (we had adopted our first puppy, Niko from GEARS in March of 2015), ended up in us adding another beautiful dog to our family. GEARS put up a post about Akira, explaining how she would be needing several surgeries (both knees and one hip). At the time, Sean and I weren't planning on getting another dog; however, Niko had just been through knee surgery, and we knew that Akira had tough times ahead with her surgeries as well as possibly down the road. For some reason, her story pulled at our heart strings, so we contacted GEARS and expressed our interest in adopting her. 
Akira spent seven months with an AMAZING foster family that we are forever grateful for (Myrrhone and Jordan). They took care of her after all her surgeries, and were instrumental in helping Akira to learn how to trust people and to know how loved she was during this tough time. The fosters deserve all the credit in the world; this was a huge time and life commitment for them, yet they did everything they could to help her. The updates and pictures Myrrhone would text us were a huge highlight for us during this time. "
Phase 2: Bringing Akira Home
"When we first adopted Akira, she was still recovering from her latest surgery, and she favored her left leg. She would only walk a block or two before she became noticeably sore.The rehabilitation vet Akira had in Edmonton (through GEARS) had recommended a vet clinic in Calgary that had a water treadmill and an extensive physiotherapy program. We decided to take Akira there the week after we got her. Because Akira had had so many surgeries and because this had all happened when she was so young, the vet basically described her as "a mess" at our first appointment. That being said, the vet was also very confident that Akira could be helped with physiotherapy. So then began Akira's recovery program: zig zag walks up hills, obstacle courses in our basement, stretching, balancing, slow stair climbing, etc., in addition to bi-weekly treadmill sessions and chiro. We initially thought the idea of getting chiro for a dog was ridiculous, but the very first time Akira had it, she started wagging her tail right after it was done; it was as if something was pinching her and suddenly she had relief. Within a few months, Akira had a very solid stance on all four legs, and we could tell her level of pain had significantly decreased. It was amazing to see Akira's hard work paying off."
Phase 3: Becoming Part of the Family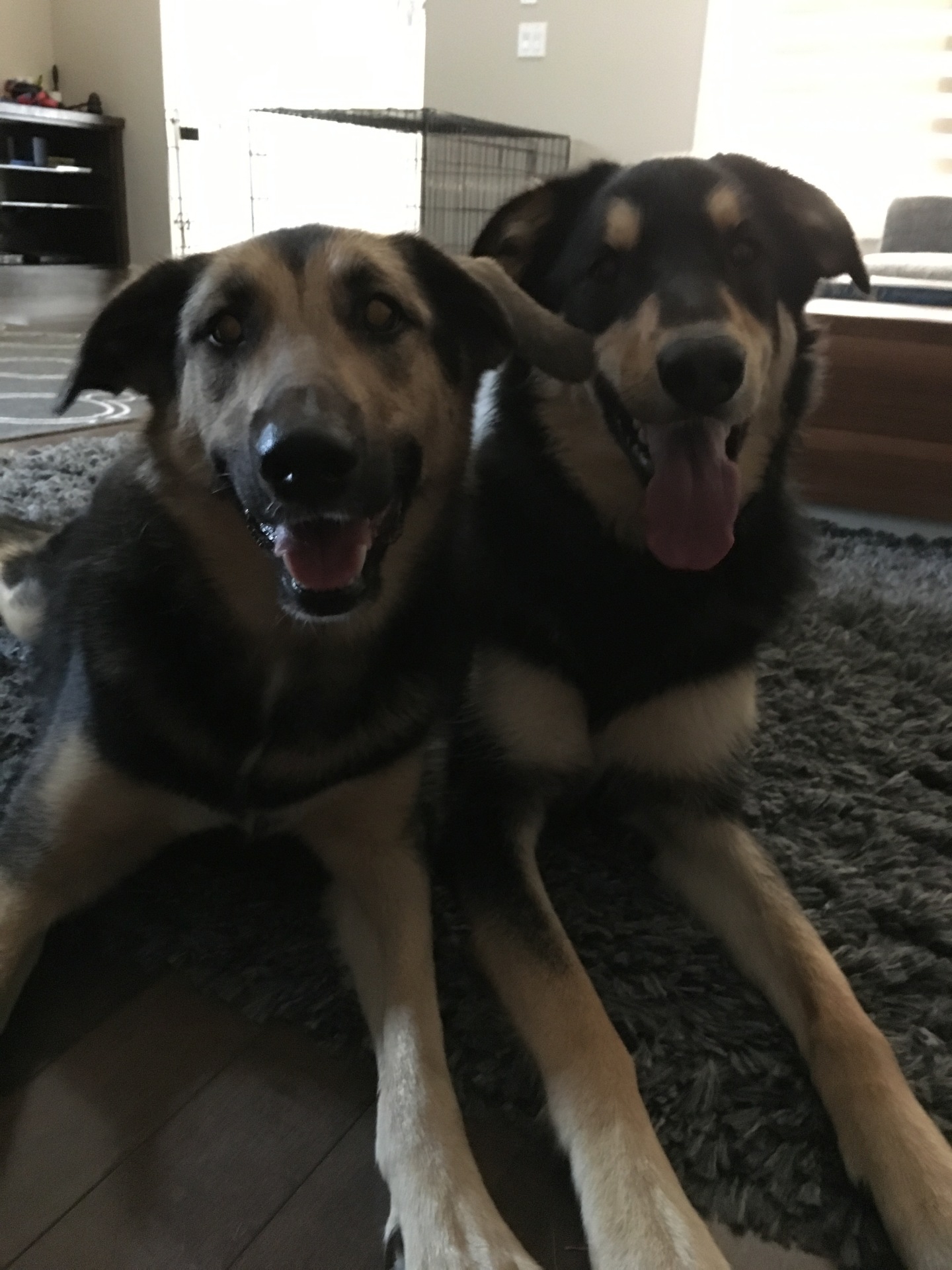 "When we first brought Akira home, she hadn't had much training since she had spent so much time having surgeries and recovering, so we wanted to get her into classes. We had previously pulled Niko out of her first round of training classes because she had needed knee surgery, so the timing was perfect to put both dogs into a class together. The first time Akira started learning new tricks, she was SO excited. She caught onto training so quickly, and to this day she continues to show us how smart she is.  However, because she is so smart, she can also be incredibly sneaky, so we definitely need to keep our eyes on her.  
Akira still has some behavioral issues that she's always had since we've known her, but we are working on it every day. She is still nervous with strangers at times (usually men), and she is uncomfortable around children. Because of this, we are always mindful of the situations we put her in. 
It has been so special watching Akira and Niko develop an incredibly strong relationship.  When we took Akira to her first day of daycare with Niko, the staff asked us if they were littermates because they were so strongly bonded."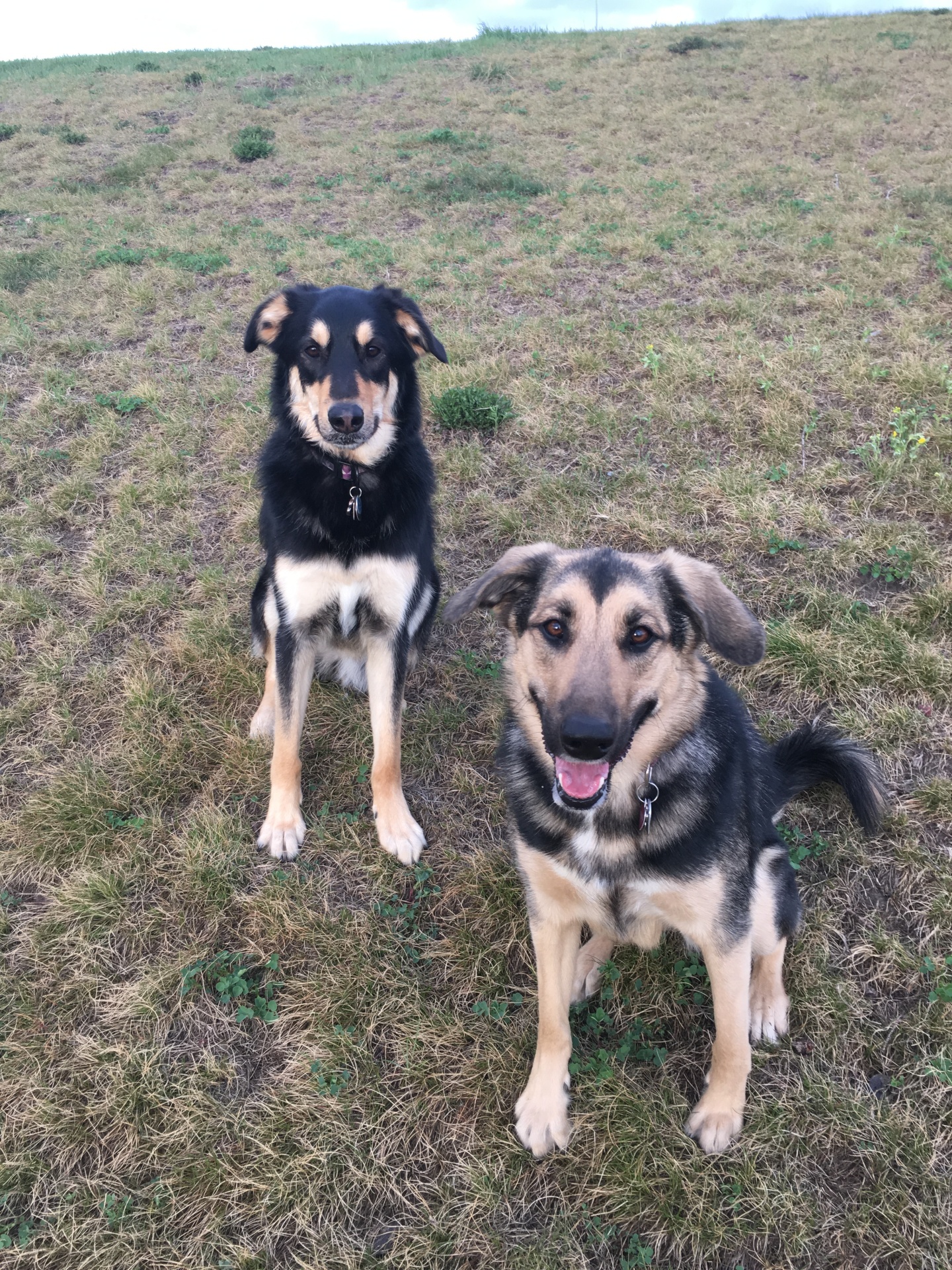 The Result: Akira's Journey Ahead
"We've had a couple of health setbacks with Akira since we adopted her.
In September 2016, Akira woke up one morning and wouldn't put her left leg down. We took her to the vet and it turns out she had developed an infection around the screws in her knee. Luckily, she was able to have surgery the next day to remove the screws and get her on antibiotics. In February of 2017, Akira developed a sore on the inside of her right knee, but she showed no other signs of discomfort. Because of the location of her sore (right where her plate/screws were located in her knee), we took her in to the vet. She had x-rays done, and the vet said it looked like she either had a severe bone infection, or possibly even cancer. This news was incredibly upsetting, and we opted for Akira to have surgery the following day to take out the screws/plate in her right knee, and to take bone samples to determine whether she had cancer or a bone infection. Akira also recovered well from this surgery, and within the week we found out that she had a bone infection that could be cured with some strong antibiotics. What a relief! Throughout all of this, the vets were shocked by how high her pain tolerance was, and they also commented on how positive she was after everything she had been through.
Today, Akira is such a big part of our family. She is truly a character, and always makes us laugh. She has lots of energy, she still doesn't understand the concept of personal space when it comes to cuddling (she'll literally crawl into our laps for a snuggle even though she is over 60lbs!), and she is not shy when it comes to giving kisses. Akira loves daycare, physio, going for walks, and spending time at the dog park. She is OBSESSED with her best friend Niko, and always follows her around the house trying to convince her to play. We've been through a lot of unique experiences with Akira, but we wouldn't trade this for anything. Akira has made our lives so exciting, and we've never met such a positive soul. Akira has also taught us a thing or two about living in the moment and enjoying family time—we spend way more time at home now because we just genuinely love being with our two goofballs.
Thank you to GEARS and to Akira's amazing foster homes through GEARS (Anjie and Myrrhone), and to everyone who contributed to Akira's surgeries and recovery. This is a dog who deserved a second chance, and she is truly happy to have one."
-Blog post composed by Jillanne Bowler-Veltman; all quotations are written by Kim M